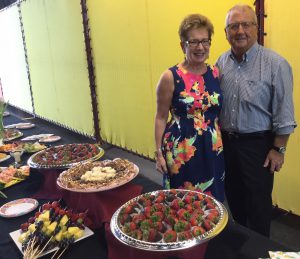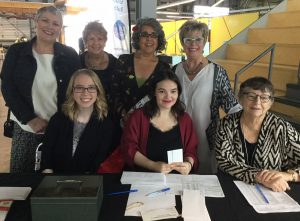 The 5th Annual TOAST TO SPRING event was a smashing success raising over $7000 in net revenues to go directly to services provided to seafarers from all over the globe. We thank all our sponsors and participants. Photo to left – volunteers extraordinaire Susan and Norman, who catered the event with a grand array of tasty treats. Rev. Maggie, Patricia, Aurora, Helen, Katrina, McKayla and Carolyn in photo to the right.
Thank you to Sandra and John Attersley of Quay Marine Associates Inc., Ruth Harding Bohan and Patrick Bohan and the Atlantic Pilotage Authority for sponsoring this event. A huge thanks to Susan and Normal Picton who wowed us with their fabulous catering skills during our Toast to Spring Fundraiser which raised over $7000 in net revenues. This will go a long way in providing services to our seafarers from all over the globe. We are grateful to all the volunteers who contributed their time (Aurora, Patricia, Carolyn, Howard, Aleksei, McKayla and Katrina) as well as our committee members Joan MacLeod and Cathy McGrail. We look forward to seeing you all next year.
DONATIONS OR PAYMENTS MAY BE MADE ON ANY PAGE.
We will see you all 2019!
---
We also accept paypal (please enter your details on all PayPal transactions)