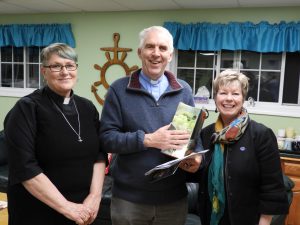 We were honored by a visit from the Secretary General, Reverend Canon Andrew Wright who attended our April 11th Volunteer meeting and took a few days to visit our Port of Halifax. Revd Wright shared his vision of our mandate to promote the spiritual, moral and physical wellbeing of seafarers. We are grateful for his time and wisdom and his ongoing guidance.
Our Mission continues to move forward, inspired by our faith and grounded in our core purpose. Revd Andrew spoke of success stories as well as the challenges of Missions he has visited internationally. Many face a similar fear as we aim for "financial stability" to remain open. We are grateful for his time and gracious words speaking of the warmth and comfort offered in our centre as well as the excellence he sensed in our family of volunteers. This is truly a testament to the hard work and kindness of our volunteers who are integral to our operations and to whom we are forever grateful.
As Secretary General, Andrew brings considerable insights into seafaring issues and has built strong personal relationships across the maritime charity sector. He provides inspiration, strategic leadership to mission chaplaincy teams which offer welfare support to all Mission to Seafarers in the World, as well he oversees international HQ in London.
For more information, you may check out his BLOG: