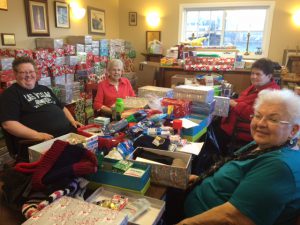 Our staff and volunteers are filled with joy when they deliver shoebox gifts to seafarers visiting the Port of Halifax during the month of December. For some seafarers this is their only gift. This campaign continues until all the shoeboxes are given out. In 2017, staff and volunteers who visit the ships gave out 1464 shoebox gifts. What a truly heartwarming experience this is for all!
We thank Sylvia, Emma, Kathi and Martha who check every box, before lovingly gift wrapping, There should not be any liquor, sharp objects, chocolate or flammables enclosed.
We are grateful to many individuals and churches that provide the items to enable this heartwarming program to continue. Our community partner in this endeavour, the Maritime Museum of the Atlantic continue to be instrumental in promoting this annual campaign. This year we experienced a shortage of shampoo and mini-gloves. We thank everyone who has supported this campaign in 2017.
Shoeboxes include:
HAT, SCARF, GLOVERS OR MITTS, SOCKS, WRAPPED HARD CANDY (NO CHOCOLATE), SOAP, TOOTHPASTE, TOOTHBRUSH, SHAMPOO, SHAVING FOAM, RAZORS, DEODORANT AND LYPSYL, PLAYING CARDS, MEMENTO OF NOVA SCOTIA, PRINCE EDWARD ISLAND OR CANADA.