International Women's Day 2022 at the Mission to Seafarers Halifax
The ladies of the Halifax Mission are at the heart of the organization's operation and service to the seafarers. Their indispensable contributions are appreciated.
Equally important is the recognition of the hard work and sacrifice of all women seafarers whose labour amid the global pandemic and conflicts between people have kept going international trade and the global economy.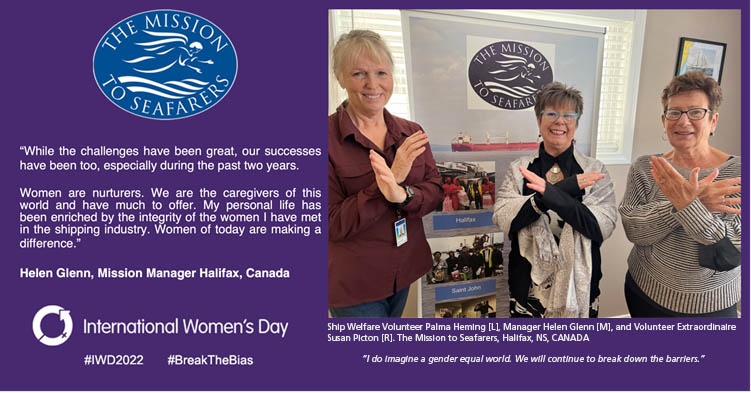 ---
Celebrating Women Seafarers
On 06 July 2022, our Rev. Andrew Cooke went aboard the ZIM SHEKOU in Halifax harbour and presented a white Christmas cactus to Captain Shani Ben-David, the first female Captain of a ZIM vessel and the first female Captain in the Israeli Merchant Marine. This was her inaugural visit to Halifax in command. Retired ZIM Captain Avi Lugi Gal, a friend and supporter of the Mission in Halifax, mentored her through the ranks and thinks fondly of her "as a daughter". He stated "she is one of the ladies who are lighting the torch in the dark". Captain Shani Ben-David was appointed as Master of the ZIM SHEKOU in May of 2022, which coincidentally is the month in which the International Day for Women in Maritime occurs. Congratulations to Captain Shani Ben-David, we wish her fair winds and following seas as she lights for the way for other women to follow a career in the sea-going profession.
Thank you as well to our volunteers, who visit the ships in our port to help realize our mission to serve all seafarers.